Saint Patrick's Day

Whether you are a fan of the traditional ham and cabbage meal from Ireland or have more of a corned beef and cabbage preference, we hope you had a safe and joyful Saint Patrick's Day. We share this four leaf clover in hopes of your good fortune in the coming days!
---
Red Clover Facts

The benefits of red clover for your skin are numerous and include:
Anti-Aging Results

Assisted Healing

Reduced Blemishes

Increased Circulation
---
Clover Cleansers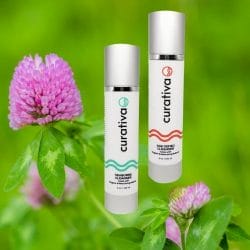 Good news – You're in luck!
Our Seaborne and Age Defied Cleansers utilize the power of red clover to increase your overall skin health and youthfulness.
We've lowered the price of these cleansers until the end of March!
https://www.curativabay.com/product-category/cleansers/
---
Don't Forget!
A daily skin care regimen is important when it comes to maintaining long term skin health. Our Bundles were developed with that in mind, plus they save you money and qualify for free shipping.
Age Defied Bundle – red clover helps to rejuvenate sun damaged or aging skin
Simply Clear Bundle –  for all ages and skin types
Seaborne Bundle – benefits of red clover, phyto-chemicals, and ocean minerals
https://www.curativabay.com/product-category/bundles/